As a WordPress user, you likely know that one of the biggest challenges in online marketing is converting visitors into customers. Getting people to take action on your website can be difficult, especially if they need to be more engaged and connected to your brand.
This is where custom notifications can help. Using premium plugins like Notification, you can implement customer messaging strategies to boost conversion rates and engage with your audience in a more personalized way. This article will discuss how you can increase conversion with custom notifications in WordPress.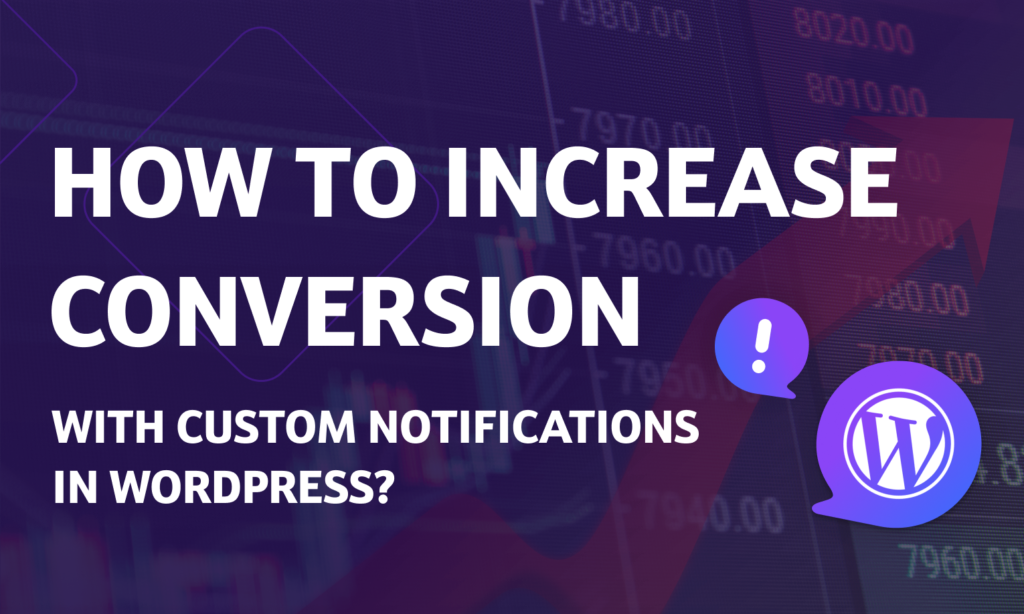 What Are Custom Notifications?
Custom notifications are messages sent to visitors to notify them of specific events or actions on your website. For example, you can use custom notifications to inform visitors of a new product launch or a limited-time sale or to remind them to complete a purchase.
These notifications can be delivered through various channels, including email, SMS, or push notifications. They can be triggered automatically by user actions or scheduled to be sent at specific times.
Custom notifications can help you stay top of mind with your audience, encourage repeat visits, and ultimately increase conversions. Here are some ways you can use custom notifications to boost conversion rates.
Understanding Customer Notification Strategies
Before diving into the WordPress notification world, it's essential to understand the importance of customer notification strategies.
One of the most effective customer notification strategies is personalized customer messages. Personalized customer messages are messages that are tailored to the specific needs and preferences of individual customers. They can be used to promote products or services, offer discounts, or provide helpful information.
Just look at the statistics:
According to Experian, personalized email notifications have a 29% higher open rate and a 41% higher click-through rate than non-personalized ones. We see a similar relationship in the Web push notifications research by CleverTap, which found that personalized web push notifications have a 4x higher click-through rate than non-personalized ones.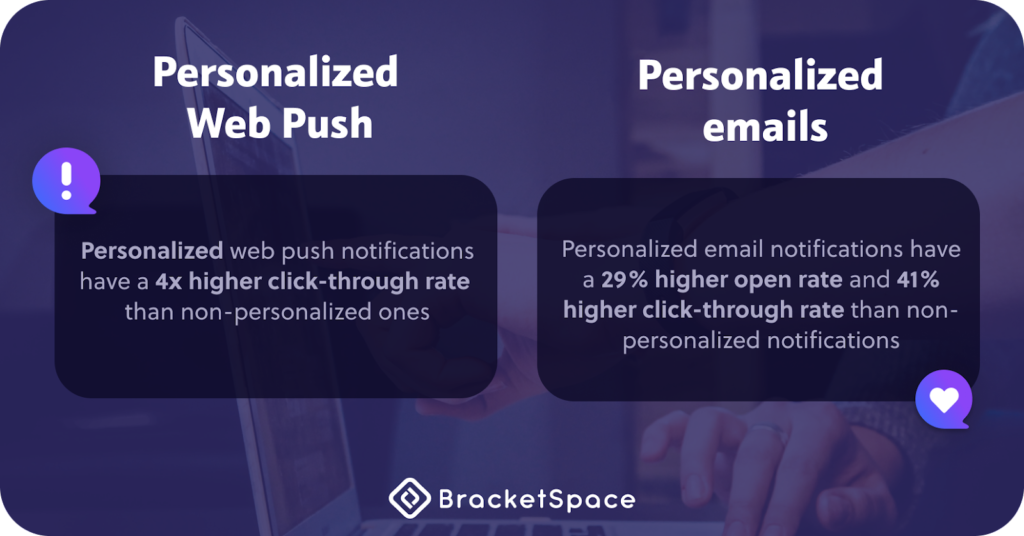 Personalization is critical to engaging with your audience and converting visitors into customers. By using personalized customer messages, you can create a sense of connection with your visitors and make them feel like they are part of your brand.
Custom notifications allow you to send personalized messages to your visitors based on their behavior and preferences. With WordPress marketing automation, you can create automated email and push campaigns triggered by specific user actions.
Use Transactional Notifications
Triggered notifications are custom notifications sent based on specific user actions on your website. For example, you can notify visitors who have spent a certain amount of time on your site or have clicked on a specific link.
You can use triggered notifications to encourage visitors to take specific actions on your website. For example, you can send a message to visitors who have viewed a product but haven't yet added it to their cart, reminding them of its benefits and encouraging them to purchase.
By using triggered notifications, you can stay on top of mind with your visitors and encourage them to take action on your website, ultimately leading to higher conversion rates.
We realize this, so a Scheduled Triggers extension from the Notification PRO package will make setting up automation of triggered notifications a piece of cake.
Easy way to create custom notifications by Notification PRO
If you're looking for a powerful and customizable notification plugin for WordPress, look no further than Notification PRO by BracketSpace. This premium plugin allows you to create custom notifications for your website, including email, SMS, and push notifications.
With BracketSpace Notification PRO, you can create automated email campaigns, triggered notifications, and personalized customer messages to engage with your audience and increase conversion rates. You can customize your news with images, links, and other rich media to create a more engaging experience for your visitors.
Premium plugins like BracketSpace Notification PRO offer businesses a range of features and functionalities to help them improve their customer notification strategies and boost their conversion rates.
Using WordPress Notification Plugin for Conversion Rate Optimization
WordPress notification plugins can be a valuable tool for businesses looking to optimize their conversion rates. These plugins offer a range of features and functionalities that can help companies engage with their customers and ultimately drive more sales.
The trigger notifications discussed earlier will prove helpful in this regard.
For example, online shops can set up triggered notifications to remind customers of abandoned shopping carts, offer personalized recommendations based on past purchases, or provide helpful information about products or services.
Another critical feature of Conversion Rate Optimization for WordPress notification plugins is automation. Automation allows businesses to set up automated email campaigns triggered by certain events or behaviors and targetting to narrow audience. You can analyze which group is the most responsive and which needs to be warmed to become a customer of your products and services.
It's not over yet! 2 ready-to-use scenarios are waiting here
Do you need tips on how to use Notification Pro to achieve your goals? See these two ready-to-implement scenarios. Let's start.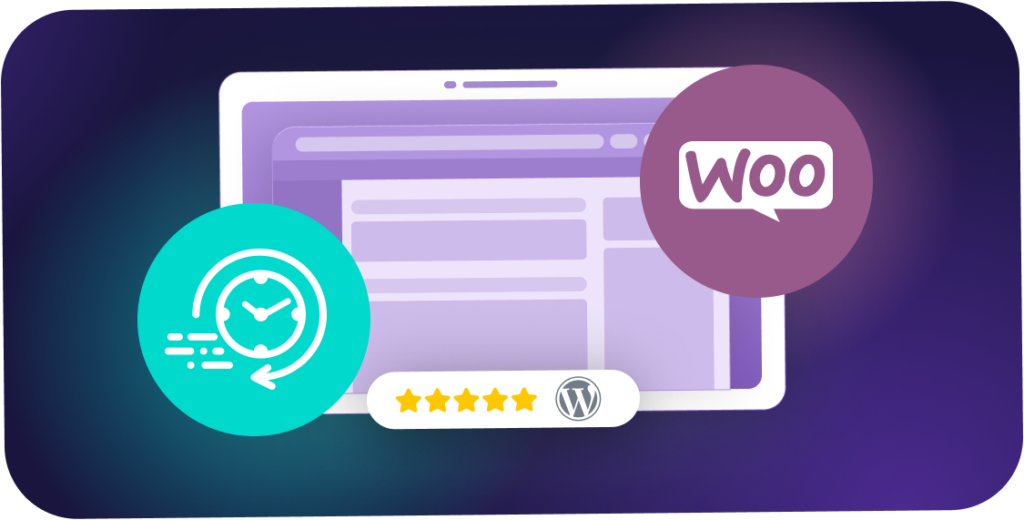 Scenario 1: Improve client rotation with WooCommerce & Scheduled Triggers extension
Everyone wants their online shopping to be more than a one-shot deal. Even leaving aside such vital metrics as LTV, it's essential that our customer feels well-served and taken care of. Learn this trivial way to improve customer turnover by using custom notifications.
The trigger for the event we'll take is – the order created. This is one of the many triggers the WooCoommerce extension to Notification PRO offers. Our mission is to remind a customer who is already using our services.
An important aspect will be the time after which we will send notifications, and unfortunately, you have to adjust it to your business. If these are fast-moving goods – food products, everyday cosmetics – such a notification can be sent as early as 1-2 weeks after the purchase.
What will we attract the customer with? A discount is always a good idea!
So, set up our custom notification as an email that will be sent to the customer after the completed action, that is, in this case, placing an order.
Now all that's left to do is track how our notification campaign goes.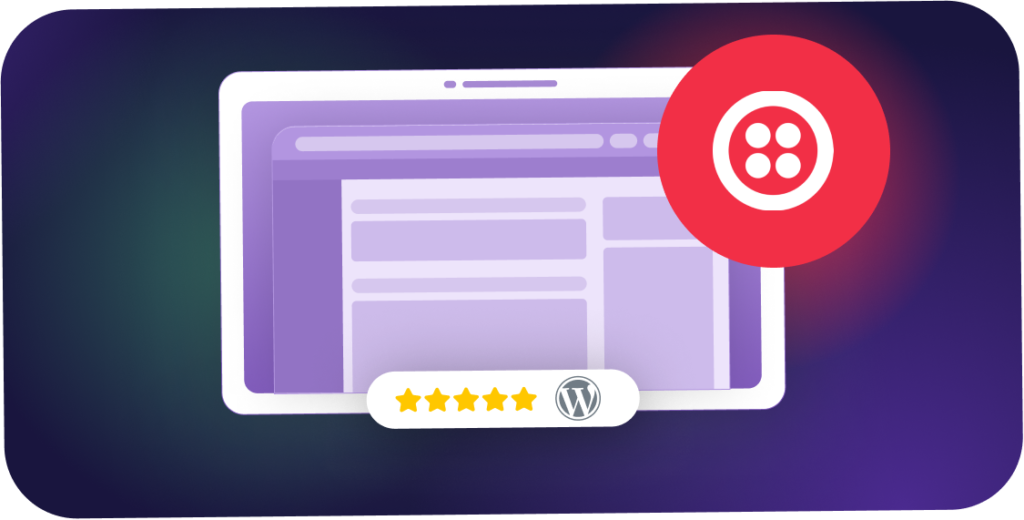 Scenario 2: Catch your customers even when they are not at the computer with the Twillo extension.
If you are following our Social Media, you know that we recently researched the most effective notifications in sales – catch up on that, but here's the key message – SMS notifications have an average click-through rate of 36%, significantly higher than other types of information.
Magic, right? Well, it would be a shame not to try how it will work for your business, and with the Twillo extension, it will be child's play.
What do you need to take care of? About getting the recipient's phone number and consent to send marketing content. Then the thing is flawless:
Install the extension (it works great in combination with WooCommerce).
Choose a trigger.
Send SMS to your recipients.
What kind of content can it be? Discounts, sales, limited-time opportunities ( according to a study by Mobile Marketing Watch, 90% of messages are read within the first three minutes of delivery), adding a product to the site, or introducing a new brand.
You can be sure that this Notification will not be missed by anyone, but don't go crazy with notification volumes. Enough is enough!
In conclusion, personalized notifications can be a game-changer for businesses looking to increase website conversions and drive sales.
However, using personalized notifications strategically and thoughtfully to deliver real value to customers while avoiding spammy or intrusive messages is crucial. With the right approach, personalized notifications can help businesses take their e-commerce strategy to the next level.
Through Scheduled Triggers and Push Extensions, businesses can create triggered notifications sent out at the right time and to the right people, encouraging visitors to complete purchases or engage with content. Personalized customer messages and automated email campaigns can also help build customer relationships and increase the likelihood of repeat purchases.
WordPress marketing automation has become increasingly important in today's digital age, and the Notification PRO All-In Bundle is a powerful tool for businesses looking to maximize the potential of their website. With these customer engagement tactics, WordPress users like you can take their business to the next level and achieve their goals without hassle.